04/10/12 10:50 Filed in:
svt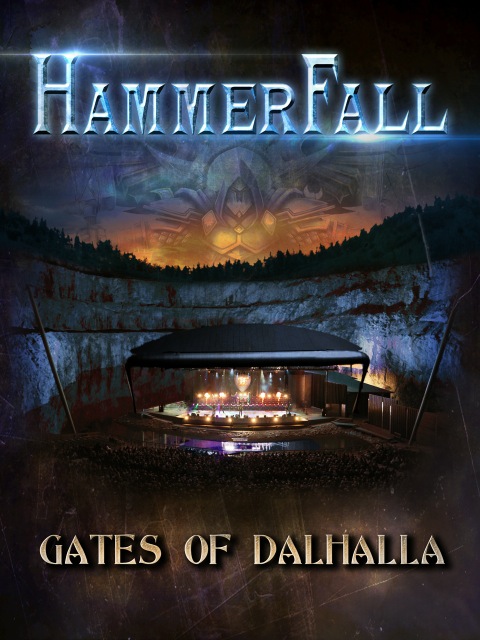 HAMMERFALL: GATES OF DALHALLA – LIVE DVD/2CD, BLU-RAY/2CD
Patric Ullaeus and his Revolver crew have now finished all the work on the upcoming
HAMMERFALL DVD + the Artwork.
Taken from NuclearBlast.de
On the occasion of their well-deserved time-out in 2012/13, after which the quintet will return stronger than ever, a testimonial of HAMMERFALL's on-stage power in a DVD+2CD format will be released on November 30th. For this, the extraordinary 135 minutes long 15-year anniversary show that took place on the 28th of July on the historic open-air stage Dalhalla, built in an old quarry near the small Swedish village Rättvik, was captured on camera.
Oscar Dronjak comments: "The set contained 26 tracks and lasted 2 hours and 15 minutes, by far the longest and most comprehensive gig of our entire career! We played songs from every album and then some, there were lots of guests and pyros, and we had 80 Marshall cabinets and the big shield with the HF logo carved out in the middle hanging brought out of storage, all set in an extremely unique venue. You really have to see it to understand, this concert really captured the essence of HammerFall live in 2012 very well!"
Prominent guests included original HAMMERFALL line-up members Jesper Strömblad and Mikael Stanne, as well as ex-guitarist Stefan Elmgren, among others, which made the show unforgettable - also for the musicians themselves.
"Everything concerning this release is special: the venue, the occasion, the setlist, the guests. If you are going to celebrate something, do it properly, and this is exactly what we have done. HAMMERFALL with extra everything, 100% live, 0% bullshit", says Oscar.
"Gates Of Dalhalla" is far more than just a live DVD/Blu-Ray: It's the ultimate proof that the Swedes, after 15 years of bringing heavy metal to the people, still are the undisputed kings of their genre.
The setlist of this very special show:
Patient Zero
Heeding The Call
Any Means Necessary
B.Y.H.
Riders Of The Storm
Let's Get It On
Crimson Thunder
Renegade
Blood Bound (Special Guest: Stefan Elmgren)
Last Man Standing (Special Guest: Stefan Elmgren)
Fury Of The Wild (Special Guest: Stefan Elmgren)
Drum solo: Anders Johansson
Always Will Be
Dia De Los Muertos
Steel Meets Steel (Special Guest: Mikael Stanne)
Threshold
The Dragon Lies Bleeding (Special Guest: Jesper Strömblad)
Let The Hammer Fall
När Vindarna Viskar Mitt Namn (Special Guest: Roger Pontare)
Something For The Ages
The Templar Flame
Oh Fortuna (Special Guest: Team Cans)
Glory To The Brave (Special Guest: Team Cans)
One More Time (Special Guest: Team Cans)
HammerFall
Hearts On Fire (featuring all Special Guests)
The DVD was recorded and directed by Patric Ullaeus
(Dimmu Borgir, Children Of Bodom,
In Flames a.o.).
It will be released as a DVD/2-CD and Blu-Ray/2-CD