25/02/22 00:52
Gothenburg's finest export of darkness, EVERGREY, enter a thrilling new chapter in the band's history with their thirteenth studio album and Napalm Records debut, A Heartless Portrait (The Orphean Testament)
The pounding album opener reflects everything the new full-length stands for, kicking in immediately with stunning guitar work and unveils a chorus sure to top the annals of EVERGREY history. Listen carefully and you will hear the voices of hundreds of fans who were invited by EVERGREY to send recordings of their voices to later provide group vocals for the track – making their everlasting mark on EVERGREY history.
For the astonishing music video, the five-piece teamed up with long-time companion Patric Ullaeus to create a bewitching visual experience that exemplifies EVERGREY.

Tom S. Englund (vocals, guitar) on 'Save Us':
"'Save Us' is about us. It's about you and I. It's about how I see our minds becoming hostages in a world where painting optimal portraits of ourselves is more important than being who we really are.
It's about my observation of watching people around me who are feeling that they're not good enough for the world, or for themselves. I'm afraid we're lost, and I think we need to help each other to find our way back to what is important, to rediscover a true sense of self.
As we, as artists, also contribute to content and social media as a livelihood, it's about the paradox of being caught in a world which is hard to free yourself from. I can only wish that our music brings some balance to that equation.

25/02/22 00:32
Swedish saviours of heavy metal HAMMERFALL have released their latest video, 'Brotherhood', the third single from their forthcoming, much-anticipated studio album, "Hammer Of Dawn".
'Brotherhood' is a musical salute to their most loyal fans, The Templars Of Steel, who have stuck by the band through thick and thin. It's also a heartfelt internal nod to each other, recognizing the very close bond the band members have with each other, especially between guitarist Oscar Dronjak and singer Joacim Cans, whose brotherhood began way back in 1996.
Again, enlisting the help of seasoned video vanguard Patric Ullaeus to help them capture the essence of the song on film, together they have created a video that perfectly echoes the sentiment of the song itself and a video that will without a doubt thrill the very people that inspired the song itself, The Templars Of Steel. With the help of the band members' children, who steal the spotlight with their cameos in the video, it's obvious that that bond of brotherhood isn't just with the band members themselves – it's also with their kids and their fans.
Singer Joacim Cans commented on 'Brotherhood': "A fantastic musical piece and album opener in honor of the greatest fans in the whole world: The Templars of Steel! We wouldn't be here without you! The video for the song includes both "The Metal Dads" and the "HF Teens" and really shows how much fun we are having together both on and off the stage."
Guitarist Oscar Dronjak adds: "The singles released so far have been a good measuring stick but 'Brotherhood' encompasses everything that has made us into what we are today. Fast and furious, melodic and riveting, 100% classic HAMMERFALL Heavy Metal!"
07/02/22 01:46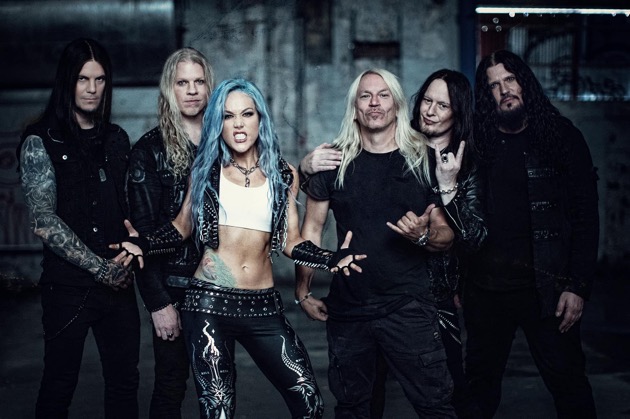 Arch Enemy with director Patric Ullaeus on the set.

ARCH ENEMY's second video directed by Patric Ullaeus "Handshake with Hell" premiered on Youtube with 500.000 views on the first day.